Quest from: Rama Erendar
Reputation: Society
Rama Erendar is a mage who had his staff stolen by some Groms. You have to reach their encampment West of Covengor and retrieve the item. The right spot will be marked on your map.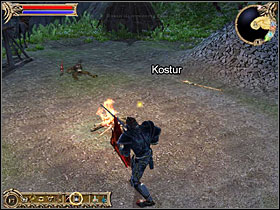 Before you reach the camp, you will go past 2 cemeteries. The encampment itself is quite small and there are few enemies to beat. Be sure to grab the staff and a totem pole (it'll come in handy for another quest). Give the staff back to Rama for some gold.
Ad blocker interference detected!
Wikia is a free-to-use site that makes money from advertising. We have a modified experience for viewers using ad blockers

Wikia is not accessible if you've made further modifications. Remove the custom ad blocker rule(s) and the page will load as expected.