Harold Faltermeyer (born Harald Faltermeier; 5 October 1952) is a German musician, keyboard player, composer and record producer.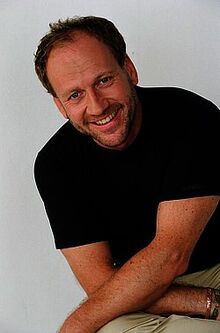 He is recognized as one of the composers/producers who best captured the zeitgeist of 1980s synthpop in film scores. He is best known for writing and composing the "Axel F" theme for Beverly Hills Cop and the Top Gun Anthem for the film Top Gun. Both works were influential synthpop hits in the 1980s.
As a session musician, arranger and producer, Faltermeyer has worked with several international pop stars including Donna Summer, Amanda Lear, Patti LaBelle, Barbra Streisand,Glenn Frey, Blondie, Laura Branigan, La Toya Jackson, Billy Idol, Jennifer Rush, Alexis, Cheap Trick, Sparks, Bob Seger, Chris Thompson, Bonnie Tyler, Valerie Claire and Pet Shop Boys.
He has won two Grammy Awards: the first in 1986 for Best Album of original score written for a motion picture or television special, as a co-writer of the Beverly Hills Cop soundtrack; and the second in 1987 for Best Pop Instrumental Performance with guitarist Steve Stevens for Top Gun Anthem from the soundtrack.
Earlier in 2006, Faltermeyer wrote the in-game soundtrack music for the computer game, Two Worlds. He had previously worked for Topware by composing the soundtrack for Jack Orlando: A Cinematic Adventure.
Ad blocker interference detected!
Wikia is a free-to-use site that makes money from advertising. We have a modified experience for viewers using ad blockers

Wikia is not accessible if you've made further modifications. Remove the custom ad blocker rule(s) and the page will load as expected.