Reaper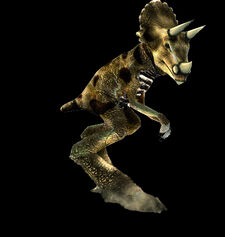 This is the most widespread monster in Antaloor, so you'll probably come across them pretty often! Whether in mountain forests or the treeless, arid zone to the far south, the Reapers are everywhere. They have two legs and attack in packs. Rumour has it that a Reaper alone isn't so dangerous - but if you should come across one, don't take it too lightly... there are different kinds of reapers and the one facing you could turn out to be your killer! Throughout the course of the centuries, the species has continued to evolve, producing some really deadly varieties. Just two examples here are the Plate Reaper, protected by an especially large armoured head plate and the Hammertail Reaper, which has a star-shaped, iron-hard knob on the end of its tail - and it sure knows how to use it to cripple anything in its way!
The Reaper is a monster that is dangerous in the beginning of the game. But as you level up, they get easier and easier.
For information on creating Reapers, see Cheats and Creating People/Monsters#Reapers.