White Head is an Orc that has been causing a great deal of trouble in the Cathalonian military camps along the banks of the Gon. Being the leader of a large group of Orcs, White Head has taken his share of human lives.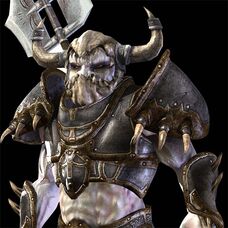 He is one of the only Orcs in Two Worlds that has honor, and will actually speak to you. His experience in killling humans and his effectiveness in combat make him a powerful opponent.
Ad blocker interference detected!
Wikia is a free-to-use site that makes money from advertising. We have a modified experience for viewers using ad blockers

Wikia is not accessible if you've made further modifications. Remove the custom ad blocker rule(s) and the page will load as expected.